Table Saws Loading...
End of content
Error - No more pages to load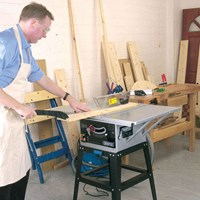 Table Saws Information
The centrepiece of many workshops and a capable tool on the jobsite when combined with a portable base, the
table saw
is one of the larger power tools, and one that excels whenever timber or sheet goods need to be cut with repeatable accuracy and precision. The
table saw
can be used for both ripping and cross cutting, and enables multiple cuts to be repeated accurately with ease. Historically, using a
table saw
neccesitated an AC power source but since the DeWalt Flexvolt system was announced in 2016, they are now available in battery powered versions too.
As well as the standard
table saw
design, there are a few hybrid machines on the market which can be used like a standard electric mitre saw as well. These are commonly called flipover saws or flip over saws.
Table Saw Safety:
Table saws
can cause severe injuries if they are not used with due care and attention. Always read the manual before using a new tool and make sure to familiarise yourself with the conditions that can cause kickback (a sudden, and often violent reaction that occurs if the saw blade becomes pinched or jammed by the workpiece). Always use push sticks whenever an application requires you to bring your hands close to the blade, and wear suitable
eye
and
respiratory
protection, depending on the materials being cut.