Leaf Blowers & Vacuums Loading...
End of content
Error - No more pages to load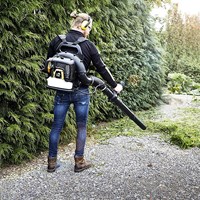 Leaf Blowers & Vacuums Information
Fallen leaves block sunlight from reaching lawns and can result in dead patches of grass, as well as quickly covering patios and pathways if left unchecked. Primarily designed to assist with clearing autumn leaves from lawns, parks, gardens and other outdoor spaces, these tools typically have either blower and vacuum functionality combined, or are blowers only. A leaf blower, or garden blower, is normally used to shift fallen leaves into easy to manage piles, where they can be gathered up for compost or disposal. Garden vacuums tend to be more suitable for smaller patches of individual leaves, and can be much more effective when leaves are trapped amongst plants or other obstacles. As well as shifting leaves, these blowers can also be used for clearing or gathering other debris such as sawdust or building waste, though bear in mind they are not usually designed to cope with wet leaves (which are much heavier, and therefore inclined to stick to the ground).
Here's our Quick Application Guide:
• Corded Electric
Leaf Blowers & Vacuums
– usually the most affordable option, these machines are restricted by the amount of cable they are attached to but are great if you have a small garden or only need to work near the house.
• Cordless Electric
Leaf Blowers & Vacuums
– Usually running off lithium ion batteries, these offer unrestricted freedom of movement but have historically been less powerful than petrol or mains machines. However, todays lithium ion batteries are available in increasingly higher voltages and are much more user friendly than petrol. Additionally, they can usually be used to power other compatible tools as well.
• Petrol
Leaf Blowers & Vacuums
– Petrol engines offer great performance and runtime but they tend to be much louder than electric variants, and come with the added inconvenience of having to buy, mix and safely store fuel. They are ideal for the maintenance of larger properties and public spaces.
Leaf Blower & Vacuum safety:
When using corded power tools outdoors it is always a good idea to use an
RCD
to safeguard against electrocution. If using a petrol machine, take the necessary precautions to ensure fuel is stored safely in between use. Leaf blowers are capable of throwing up small stones and other debris so
eye protection
should be worn when using them or working around them.