SDS Drills Loading...
End of content
Error - No more pages to load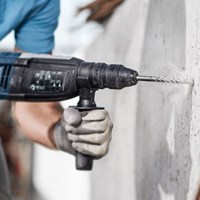 SDS Drills Information
SDS machines were developed specifically for hammer drilling into concrete & masonry and can usually only be used with compatible SDS bits, though many have interchangeable chucks enabling them to be used with standard drill bits as well. We stock three main types: SDS Quick, SDS Plus & SDS Max.
Here's our quick application guide:
• SDS Quick– a system which is unique to the Bosch DIY series of UNEO drills, these compact, cordless machines punch above their weight thanks to the increased efficiency of the SDS system. Compatible with SDS Quick drill bits.
• SDS Plus – the most common type of SDS machine. Usually capable of chiseling as well as drilling, making them suitable for light duty demolition tasks such as removing bathroom tiles. Compatible with SDS Plus drilll bits and chisels.
• SDS Max – designed for heavier duty drilling and demolition tasks, and much more physically demanding to use due to their increased weight. Compatible with SDS Max drill bits and chisels.
SDS Drill Safety:
A common hazard when hammer drilling is striking hidden objects such as rebar, causing the bit to jam and the machine to twist violently. Always keep a firm grip on the auxiliary handle and ideally make sure you are using a machine with a safety clutch, which is designed to disengage in the event of a high torque reaction. Long term exposure to concrete dust can be hazardous to your health so it is recommended to use
repiratory protection
when drilling concrete as well as
eye
and
ear
protection at all times.