Pole & Tree Pruners Loading...
End of content
Error - No more pages to load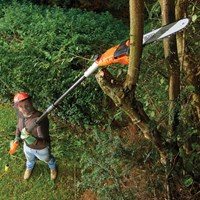 Pole & Tree Pruners Information
A powered
Pole Tree Pruner
typically consists of a small chainsaw mounted on a long shaft, enabling the operator to cut through high tree branches while standing at ground level. Some of these tools have interchangeable heads, allowing them to be used to tackle other garden maintenance tasks like hedge trimming as well.
Here's our quick application guide:
• Corded Electric
Pole Tree Pruners
– usually the most affordable option, these machines are restricted by the amount of cable they are attached to but are great if you have a small garden or only need to prune trees near the house.
• Cordless Electric
Pole Tree Pruners
– Usually running off lithium ion batteries, these offer unrestricted freedom of movement but without the power afforded by mains electricity. Higher voltage machines will typically make pruning jobs faster, and therefore less physically demanding, but come at a higher cost.
Pole & Tree pruner safety:
When using corded power tools outdoors it is always a good idea to use an RCD to safeguard against electrocution. Head and eye protection should be worn when operating a pole tree pruner.