Mitre Saws Loading...
End of content
Error - No more pages to load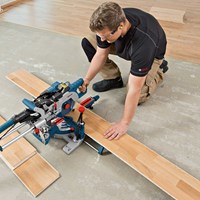 Mitre Saws Information
Mitre Saws
are dedicated cross cutting machines which use circular saw blades suspended in an arm which is brought down to the workpiece by the operator. They are generally the fastest and easiest way to accurately make 90° or angled cross cuts into material, provided it is within the saws cutting capacity. Most commonly used for cutting wood, some mitre saws are also suitable for cutting other building materials (like PVC, plastic or aluminium) provided they are fitted with a suitable blade.
Here's our quick application guide:
• Compound
Mitre Saws
– On a compound saw, the head can be tilted to the side and fixed to a required angle. This enables it to make more complex cuts required for applications such as installing coving.
• Sliding
Mitre Saws
– often combined with compound action to create the Sliding Compound
Mitre Saw
, or SCMS, the advantage of this design is that the blade can be pulled out towards the operator and then pushed through the workpiece, giving it a greater cut capacity than standard
mitre saws
.
• Non Sliding
Mitre Saws
– on a standard
mitre saw
design, the cut capacity is restricted by the diameter of the blade as it cannot be moved other than to bring it down onto the workpiece. However, this usually means these machines are smaller, lighter, easier to carry around, and more affordable. They are also considered a slightly safer option for inexperienced users.
Mitre Saw Safety:
Circular saw blades can cause severe injuries if due care is not taken when using them. Make sure to read your machines operating manual before using it and in particular take care not to place your hands anywhere in the cutting area when the machine is in operation.