Mitre Blocks & Boxes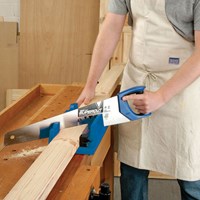 Mitre Blocks & Boxes Information
Mitre Blocks & Boxes
are typically used to facilitate guided 90°, 45° or 22.5° angled cuts with a handsaw (commonly a
tenon saw
). They have pre-cut slots which the saw blade drops into, ensuring it won't wander off line during cutting.
Mitre blocks and boxes
are most commonly used to cross cut narrow sections of wood, but they can also be used for materials like metal or plastic pipes. Alternatives to
mitre blocks and boxes
include
hand mitre saws
and
electric mitre saws
.