Metal Cut Off Saws Loading...
End of content
Error - No more pages to load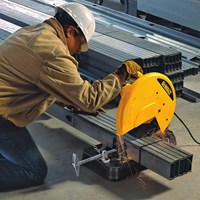 Metal Cut Off Saws Information
The
Metal Cut Off Saw
functions like a rudimentary mitre saw which has been designed to cope with the more intensive conditions of cutting through metal. Subsequently they are equipped with much more powerful motors and are often used with abrasive discs as well as metal cutting or multi purpose circular saw blades. Due to this they are also known as abrasive cut off saws or abrasive chop saws. These tools provide a quick, easy and safe method of accurately making clean cuts through materials such as metal pipes, tubes, conduit, channels and rods.
Metal Cut Off Saw Safety:
Make sure the machine is secure and stable before using it and do not place your hands or feet on the cutting area while it is in operation. Metal cut off saws are loud tools and produce sparks and chips during the cutting process; ear and eye protection should be worn while using them.