Jigsaws Loading...
End of content
Error - No more pages to load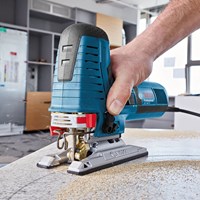 Jigsaws Information
One of the primary strengths of the
jigsaw
is its ability to cut curves and follow relatively complex patterns. It can be used to cut straight lines too of course, though other machines like circular saws are generally preferred for this task. However the
jigsaw
is also one of the least intimidating and most affordable power saws available, meaning it is often a staple part of the DIYers tool kit as well as an extremely capable tool in the hands of seasoned professionals. There are a wide variety of blades available for
jigsaws
which are suitable for cutting wood, metal and other common materials.
Here's our quick application guide:
• D Handle
Jigsaws
– these are the most common type of
jigsaw
in the UK and have a handle that extends from the front to the rear of the machine, into which is mounted the trigger switch. This means you hold the tool much like you would an iron, a grip which is said to favour straight lines.
• Body Grip
Jigsaws
- Body Grip
jigsaws
(also called Barrel Grip
jigsaws
) don't have a handle and the operator instead grips the motor housing. As well as enabling the tool to be used easily when working from the underside of a workpiece, this grip is often claimed to provide more control for curved cuts.
Jigsaw safety:
Jigsaws
are generally one of the safest power saws to use though (as with all power tools) suitable eye, ear and respiratory protection should be worn depending on the application and materials being worked on.