Impact Drivers Loading...
End of content
Error - No more pages to load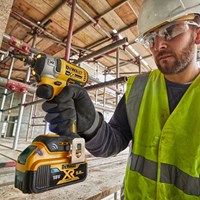 Impact Drivers Information
Impact Drivers
are designed for driving screws but they do not have an adjustable clutch like those found on drill drivers and combi drills. Instead they have a rotational impact mechanism which delivers much higher levels of torque than is typically found on those machines, making them a commonly reached for tool whenever larger fasteners are needed for a project. They are equipped with ¼" hex tool holders for quick and convenient attachment of screwdriver bits; additionally, they can be pressed into drilling service with the use of appropriate hex shank drill bits.
Here's our Quick Application Guide:
• 10.8v or 12v
Impact Drivers
– these compact machines can't match the brute force of those in the 18v class but they are still capable of supplying more torque than even the most powerful cordless drill drivers or combi drills. Their compact form factor means they can fit into tight spaces and their lightweight construction makes them more portable and less tiring to use, especially when working overhead or in awkward locations.
• 18v
Impact Drivers
– Providing a good combination of power and portability, 18v impact drivers are ideal for heavy duty fastening applications and their high levels of torque ensure a fast and efficient work rate.
Impact driver safety:
Due to the extra stress placed on accessories,
impact drivers
should be used with impact rated bits to reduce instances of breakage. As with all drilling machines,
eye protection
should be worn at all times.