Grass Trimmers Loading...
End of content
Error - No more pages to load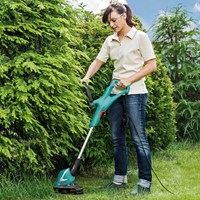 Grass Trimmers Information
Grass Trimmers
, or Strimmers, are commonly used to cut grass in areas that are inaccessible or awkward to mow with a lawnmower, for example at the edges of a lawn, on sloped ground or around shrubs, hedges and trees. They are used with trimmer line, usually a length of nylon cord, which is whipped around at high speed to cut grass and light weeds down to size. A more substantial type of
grass trimmer
, which can be used with a solid blade, is known as a
brush cutter
.
Here's our Quick Application Guide:
•Corded Electric
Grass Trimmers
– usually the most affordable option, these machines are restricted by the amount of cable they are attached to but are great if you have a small garden or only need to trim near the house.
•Cordless Electric
Grass Trimmers
– Usually running off lithium ion batteries, these offer unrestricted freedom of movement but are generally less powerful than petrol or mains machines. However, lithium ion batteries are much more user friendly than petrol, and can often be used to power other compatible tools as well.
• Petrol
Grass Trimmers
– Petrol engines offer great performance and runtime but they tend to be much louder than electric variants, and come with the added inconvenience of having to buy, mix and safely store fuel. They are usually a good option for professional landscapers or properties with large amounts of land.
Grass Trimmer Safety:
When using corded power tools outdoors it is always a good idea to use an
RCD
to safeguard against electric shock. If using a petrol trimmer, take the necessary precautions to ensure fuel is stored safely in between use. All
grass trimmers
are capable of throwing up small stones and other objects so
eye protection
should always be worn when using them or working around them.