Combi Drills Loading...
End of content
Error - No more pages to load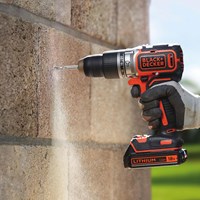 Combi Drills Information
Cordless
Combi Drills
are a staple fixture of the jobsite and household DIY tool kit alike. Often the first or only drill that many users will purchase, this versatile machine is designed to accomplish three main essential tasks: rotary drilling, hammer drilling and screwdriving. The switchable hammer mode enables it to drill into tougher materials like masonry, while the adjustable clutch allows the optimum torque to be selected for driving different sizes of screws home perfectly every time without fear of damaging the material surface.
Here's our Quick Application Guide:
• 10.8v or 12v
Combi Drills
– these compact machines can't drill holes as large as those in the 18v class but they can fit into much tighter spaces and their lightweight construction makes them more portable and less tiring to use, especially when drilling overhead or in awkward locations.
• 18v
Combi Drills
– capable of tackling most DIY drilling and screwdriving tasks and a workhorse for general duty fixing and fastening applications on the jobsite, the 18v Combi Drill is a popular balance of power and portability that has made it a long standing best seller amongst power tools.
Combi Drill safety:
Drill bits and other accessories can break during use, and as with all drilling machines,
eye protection
should be worn whenever you are using a Combi Drill.