Swiss Army Knives Loading...
End of content
Error - No more pages to load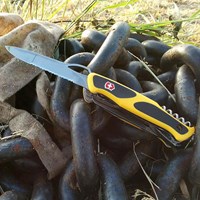 Swiss Army Knives Information
Swiss Army Knives
are the most well known product range manufactured by Victorinox, and they are used by everyone from Swiss military personnel to NASA astronauts. All
Swiss Army knives
are manufactured in Switzerland, using martensitic stainless steel for strength , durability and corrosion resistance, and their wooden scale knives are made using walnut trees from Swiss forests. In 2005 Victorinox acquired Wenger, a fellow Swiss multi tool and knife manucturer, and have subsequently incorporated several of their designs into the Rangergrip series of larger handled knives.
Swiss Army knives
are designed to provide the user with years of reliable service, so much so that each one is supplied with a lifetime guarantee against any defects in material and workmanship (excepting electrical components).
Swiss Army knives
are available in basic configurations as well as fully featured high end models.