Lawn Sweepers Loading...
End of content
Error - No more pages to load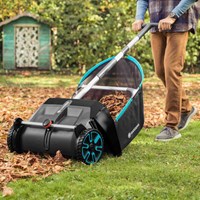 Lawn Sweepers Information
Lawn Sweepers
are designed to provide a quick and efficient way of picking up debris such as leaves, twigs and grass clippings. As they are rolled over the lawn, material is picked up and desposited in the collection bag where it can be easily tipped out as required. This integrated collection system, as well as their wider working width, makes them a much faster alternative to raking by hand and they are especially useful if you have a larger area to maintain.
Towed Lawn Sweepers
are designed to be hitched onto a vehicle such as a lawn tractor, while
Push Lawn Sweepers
have handles and are pushed along by the operator.