Door Closers Loading...
End of content
Error - No more pages to load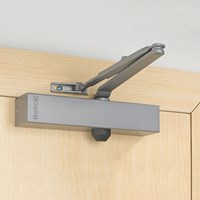 Door Closers Information
Door closers
are designed to ensure a door will always return to the closed position after someone has opened it. The main purpose of this is to ensure that fire doors are kept closed so that in the event of a fire they will help keep it contained and prevent it from rapidly spreading through the building. Aside from this, they are also commonly used for security purposes, to keep out loud noise or to stop draughts and prevent heat loss. Before choosing a door closer it is important to find out the weight of the door to make sure it is within its weight rating. There are three main types of door closer: overhead, surface mount and concealed.
Here's our Quick Application Guide:
• Overhead Door Closers - the most common type seen on fire doors, an overhead door closer is fairly straightforward to install and simply screws into the top of the door and the corresponding door frame. Many have a facility for adjusting the closing speed to enable it to be fine tuned to your requirements. These
door closers
come in a wide variety of ratings and are suitable for light to heavy duty applications.
• Surface Mount Door Closers - these tend to be suitable for light to medium weight doors up to around the 50kg mark. Generally speaking, they are more compact, cost-effective and straightforward to install than overhead types, though they are not typically as heavy duty.
• Concealed Door Closers - like the surface mount
door closers
, these tend to be suitable only for doors up to around 50kg. The advantage of this type is that they are practically invisible once installed so they do not detract from the decor of the room. However, installation is more complex than the previous two methods and for best results it may need to be undertaken by a competent DIYer or trade professional.