Spear and Jackson Tools Categories
↑ Browse the categories above to see all ↑
Spear and Jackson Tools Top Picks
Spear and Jackson Tools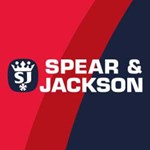 Spear and Jackson are a gardening and hand tool supplier headquartered in Sheffield, South Yorkshire.

In the 1740s, a form of the crucible steel process was discovered that allowed for the manufacture of new forms of better quality steel than had previously been available. This innovation spurred the growth of Sheffield as an industrial town and it was not long after, in 1760, that the foundations of Spear and Jackson were laid. Established by Wakefield merchant Alexander Spear, the second half of the name came from an employee, Sam Jackson, who started as an apprentice and rose through the ranks to become a business partner in 1830.

Several other companies have become part of the Spear and Jackson group since its inception. In 1985 they were acquired by Neill Tools, the manufacturer of the Ecplise range of hacksaws. Precision measuring specialisits Moore & Wright and respected trowel manufacturers WHS (William Hunt & Sons) and Tyzack are also part of the present day Spear and Jackson brand.

About The Products

Manufacturing a range of tools for everyday use in the garden, household and worksite, Spear and Jackson are sure to have the tool you require for the job, ensuring durability and good quality. Their Garden tools range from shears, slashers, pruning saws, shovels, forks and rakes. They are manufactured from stainless steel, aluminium and high quality handles to ensure a long and productive lifetime. The Agricultural ranges are tough hard wearing tools designed to last, for use in large gardens, small holdings, equine and farming environments. The Spear and Jackson Rabbiting Spade is ideal for digging fence post holes and planting sapling trees, with an epoxy coated head for reduced soil adhesion and a weatherproofed hardwood shaft.

Razorsharp Advance is a comprehensive range of the finest cutting tools for the garden enthusiast. The range incorporates innovations such as geared and ratchet mechanisms, ergonomic design and new materials to make gardening easier. Spear and Jackson's Razorsharp Advance Bypass Secateurs have a auto-rotating lower handle, which helps minimise strain and fatigue, and includes SK5 blades.