Karcher Home and Garden Categories
↑ Browse the categories above to see all ↑
Karcher Home and Garden Top Picks
Karcher Home and Garden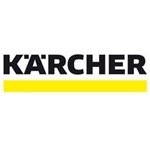 The Karcher Home and Garden range is designed to help you keep your home looking at it's best. Karcher have been designing and manufacturing tools for over 70 years and these products come with all the benefits of Karcher's engineering expertise, but at an entry level price point which makes them an affordable alternative to the Karcher Professional range. Please note that Karcher Home and Garden products are only guaranteed for domestic use, and are not intended for professional or commercial working environments.

About The Products

Karcher Pressure Washers are probably what the brand is best known for, and the Domestic range is home to the K series. Karcher K Series Pressure Washers start with the smallest and most affordable pressure washers in the Karcher catalogue, while the other end of the scale includes high end cleaning tools which are packed with cutting edge features that make them some of the very best pressure washers available in the home and garden sector.

Karcher Vacuum Cleaners offer the domestic user a bit more functionality than the standard vacuum cleaners on the market. Karcher Wet and Dry Vacuum Cleaners can be used to clean up liquid spillages as well as dry debris, while features like large tanks, additional blower modes and a wide range of nozzles and accessories increase their versatility in numerous applications. Some models have power take off sockets which enable you to connect a power tool for automatic dust extraction whenever the trigger is pulled.

Karcher Steam Cleaners let you harness the cleansing properties of steam in order to kill germs and dislodge stubborn dirt and grease in areas like kitchens and bathrooms.

Karcher Garden Tools are a comparatively recent addition to the range, and the Karcher cordless battery platform enables you to tackle all the common gardening jobs like mowing the lawn, trimming hedges and pruning trees, all with one battery - which can be swapped freely between all the tools in the range.