Festool Tools Categories
↑ Browse the categories above to see all ↑
Festool Tools Top Picks
Festool Tools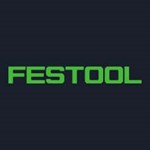 Established in 1925, Festool were originally called Fezer & Stoll, adopting the moniker Festo in 1933 (later lengthened to Festo Tooltechnic), before settling on their current branding at the turn of the millenium. As well as deciding on a name, they managed to release some of the most innovative power tools of the twentieth century, including the world's first portable Chainsaws, Track Saws and Orbital & Eccentric Sanders. This commitment to innovation continues to this day, and combined with a meticulous approach to engineering and manufacturing processes, has cemented their reputation as a benchmark of quality.

About The Products

Festool manufacture high end tools for the professional market, specialising primarily in woodworking power tools. They have a large following in the carpentry and woodworking trades, where machines such as the Festool TS55 Plunge Saw and the Festool CT Series of Dust Extractors are highly regarded for their exceptional performance.

Festool's innovative and distinctive Cordless Drills also enjoy a justifiable reputation as some of the most durable, versatile and reliable on the market. Each machine is rigorously tested to ensure it can cope with the very worst of jobsite conditions, while the Festool Centrotec interchangeable chuck system enables adaptability to a multitude of applications.

An additional benefit to the mobile user is the Festool Systainer and Festool Sortainer tool storage solution, an interlocking range of cases which enables even large toolkits to be easily transported around site, or stacked neatly away to save space while in storage.